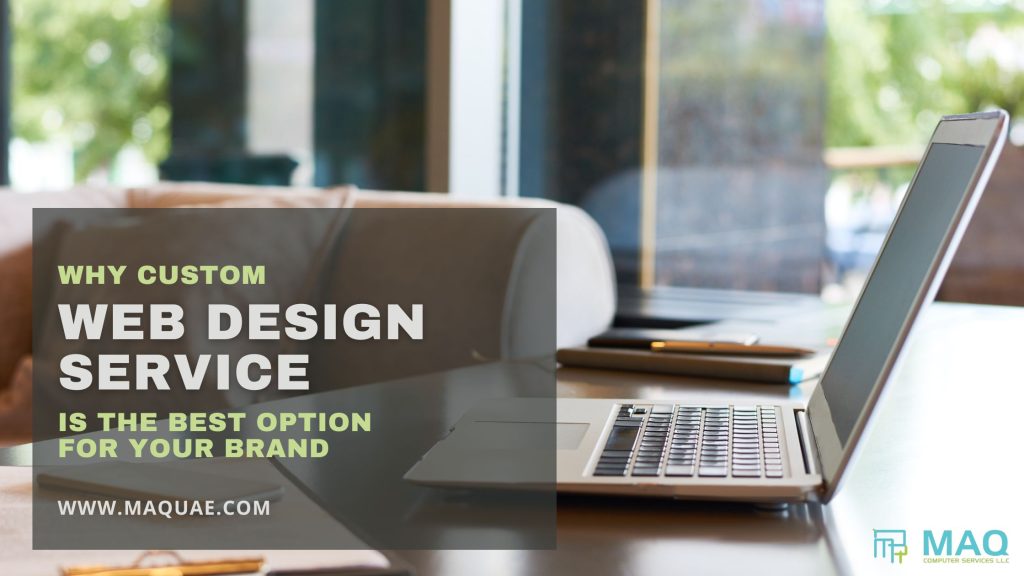 Custom web design services offer customized web solutions for your brand. They are more sophisticated than the development of pre-built template websites. It assists to create unique websites with custom-tailored brand requirements. It also helps your business to stand out among opponents.
In this digital world, having excellent websites is essential for all business firms. Websites are the best way to improve brand awareness among customers and provide a strong online presence for the business. Therefore, to get harmonious website experiences for the site visitors and customers, you need to concentrate more on custom web design. It promotes your services to a vast assortment of customers across the world. So, it is very crucial to leverage custom web design services from the best custom website design company in Dubai like us, MAQ Computer Services LLC.
Benefits of Using Custom Web Design Services in Business
There are a lot of top benefits that businesses can experience through custom web design. Some of them are given below.
Uniqueness
Custom web design is an excellent way to be unique on the internet because this will make your sites more impressive and memorable than others. This is better than the use of generic templates. Custom web design provides your site with special features and functionality. The main feature of custom web design is that you can develop your websites as per your specifications. A unique website based on your business vision provides competitive advantages to the brand. This is why the usage of web design services has become more prominent nowadays.
Flexibility
Custom web design provides more flexibility. One of the main advantages of custom web design is that you can solve feature limitations of your websites easily. The business model will change depending on the arrival of new trends and the going of existing trends. So you can easily modify your sites based on new requirements or objectives of the business. In custom web design, the updation can be done as simply as hitting a few buttons.
Scalability
Another benefit that custom web design provides is scalability. As per the growth and change, the websites need to be able to scale. For startups, it is not required to add more on the sites but as your brand grows, the changes are needed based on customers' requirements. So when looking for a custom web design company, make sure they can create scalable applications.
Better user experience
Only attractive and impressive websites can provide a better user experience. It is very crucial to make websites based on customers' needs. Only a site that has a better user experience will make the customers happy and allow the customers to spend more time on the site. With custom web design, you can build websites that are user-friendly, accessible, and functional.
Proper Security
Custom web design improves website security. It is very crucial to ensure that the site is free from security issues. The chances for security violations are more with website builders. But in custom web design you will not have to worry about security issues. Because of advanced coding methods that are used to make data more secure, the risk of breach will be less. Thus through custom web design, you will get your business websites more secure and safer.
Greater Speed
Fast website loading times are essential for the success of the websites. The impression of your site will negatively affect the customers' minds when the site is undergoing lagging in loading time. So it is essential to make sure to choose the right custom web design company that offers the best website speed optimization services for your website.
SEO friendly
One of the main benefits that get from custom web design is that it helps in search engine optimization. Because it needs the help of both web developers as well as SEO specialists. A custom website design with specific SEO techniques allows the website to build better search ranking with keyword-focused content, H1 tags, metadata, page URL, image alt tags, and so on. These best practices implemented in the sites will provide your sites with a better ranking on search engines.
Provide branding and reputation
Your websites are an essential and effective marketing tool for your business. A custom website with custom graphics will help to stand out easily. It also makes the visitors stay longer time on the websites. The reputation of your brand will benefit from having a custom website. Every person that stumbles over your website will be impressed, familiar with, and able to recall your brand.
Conclusion
In today's digital age, businesses must adhere to a healthy online presence otherwise it is absolutely nothing. So, both startups, as well as successful organizations, should have a website that showcases their services. Even though your company is doing extremely well, investing in prominent custom web design services will provide additional useful benefits for business growth. If you're looking for the best custom web design company in UAE that can provide unique and effective website services for you, then contact MAQ Computer Services LLC for better results. We are experts in creating websites that are perfect for your business. Our excellent team of developers can build you an affordable custom-built website that will help to reach a wider audience and boost your revenue.